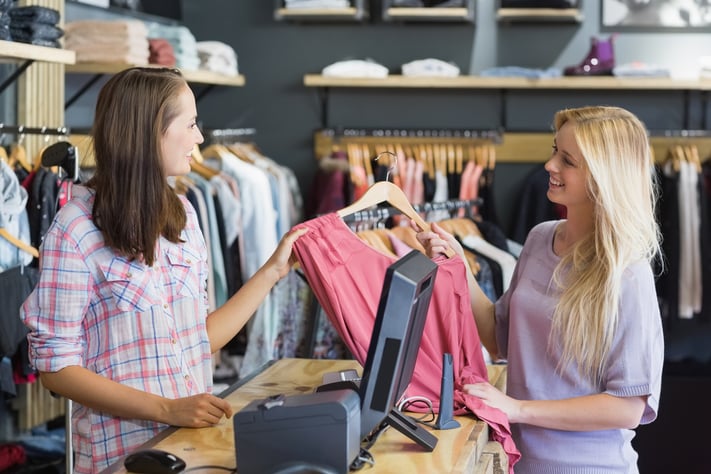 As a retailer, you already know that the COVID-19 health crisis and subsequent shocks to the economy continue to shape your business landscape.
According to figures in the August Labour Force Survey from Statscan, employment recovery in the accommodation, food services, and retail sectors remained sluggish. Hourly employers are scrambling to figure out how to rebuild their business while lacking a full team.
Heather Pysklywec, Mindfield's VP of Client Solutions, runs hourly talent acquisition for some of Canada's largest retailers. Her position means she is able to take both an industry-wide view while also maintaining a view of what's happening in the trenches of hourly recruitment.
We sat down to ask her for some expert insight into the current situation, and how the retail workforce can be reactivated.
A mixed picture
The Labour Force Survey showed that employment recovery in retail may in fact be slowing. In August the number of people employed in retail grew by 0.7% compared to an average of 6.3% in the previous three months. Overall, retail employment has reached 93.4% of pre-COVID levels, which is just under a percentage point lower than the overall recovery rate.
While employment has not reached pre-COVID-19 levels, retail sales in June were in fact higher than they were in February.
This indicates potential structural changes in the industry as employers have been able to increase sales despite fielding a smaller workforce.
Heather notes, however, that these numbers don't show the variation in what recovery looks like. It has been and will continue to be easier to recruit in major urban centres. It will likely be tough for retailers to hire in rural areas.
Hourly hiring manager challenges
Heather notes that when the Mindfield team speaks to candidates, many are looking for $20 per hour or more for roles that offer minimum wage. This suggests that there has been little incentive to return to work while benefits such as the Canada Emergency Response Benefit (CERB) have been in place.
The August Laborforce survey figures showed that the number of CERB recipients looking for work was increasing, however. 47.5% of those who were not employed were looking for work, a rise of 6.9%. While the growth in jobseekers is positive, it nevertheless remains concerning that more than half were not seeking employment.
Meanwhile, the youth employment rate was down 11 points compared to August 2019. 25% of students aged 18 to 24 reported receiving the Canada Emergency Student Benefit. Students are, of course, an important source of human capital for retailers, as well as other hourly employers.
The situation remains in flux. Although CERB is officially wrapping up, many recipients will either be moved automatically to EI or will find relief in one of the three additional benefits available to Canadians who are not EI eligible. The Liberal government hopes that these changes will provide a better mix of support and incentives to return to work, given EI's requirement to be actively job seeking.
As the changes have filtered through, Heather has noticed a gradual uptick in people seeking work. One factor, however, is that while people may be planning to return to work, they're not necessarily looking to go back to their former employer. This could signal more upheaval to come for retailers and hourly employers as they attempt to fill their team and train new employees.
What next for retail hiring managers?
Heather says that the current situation is certainly challenging: "We are truly seeing a labour shortage at the same time as record unemployment." As managers try to staff up and help re-grow their business, they may feel as though they must hire the next person who walks through the door, for fear of leaving crucial roles unfilled.
Heather and the team at Mindfield are keeping up with every twist and turn in the health crisis, and the impact it is having on retail hiring. And with access to a database of more than 4 million hourly job seekers in Canada, Mindfield keeps its pulse on what's motivating candidates.
More than that, our process matches great people with great jobs. When you sign up for a free Hire Portal account, you can rest assured that you're not rolling the dice on your next hire. All of our candidates are carefully screened and matched to your roles by our team of experienced recruiters.
With Mindfield, you take the stress, uncertainty and doubt out of hiring. We do the heavy lifting so you can spend your time where it matters most: rebuilding your business.